IC-M1Water Resistant Hand Portable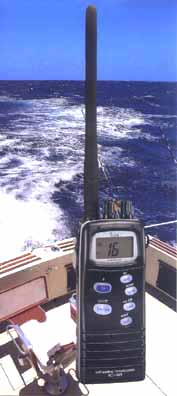 The ICOM IC-M1 sets new standards in marine communications. Its compact size, highly water resistant case style ensures this radio will travel with you in all weathers.
Easy to Operate
ICOM have re-designed this radio to guarantee ease of use. The large LCD display gives a clear indication of the operating channel under all conditions. While at night, the large buttons and channel display are backlit for fast, safe operation.
---
High Power
The IC-M1 Euro gives a full 5 watts output when you need maximum range or choose from 2 lower power settings for when you don't.
---
Ultra high speed scan functions
It is essential to keep in touch with the situation around you. To do this you may need to monitor a number of channels regularly. The IC-M1 Euro has the fastest scan rate of any ICOM marine radio yet; 28 channels per second! In addition, automatic scan start is provided; after standing by for 30 seconds the scan starts automatically.
---
Dual Watch
Of course, dual watch is built into this radio so that you can monitor two channels or even three with Tri-Watch!
---
Approved for Use
The IC-M1 Euro is fully approved for use in Europe to ETS 300-162 and meets EMC requirements.
---
Other Features
Instant access to channel 16 and a call channel.
Light weight and compact size: Weight 280g : Height 129mm : Width 52.5mm :Depth 30mm.
Easy to program "tag" scan system allows you to include your favourite channels in the scan list without needing to go back to the dealer.
Power saving function for longer operating periods between recharges.
Automatic squelch function for simple operation.
Access to all necessary marine VHF channels.
Battery pack, charger, antenna, belt clip all supplied at no extra charge.
---
Contact us :
Tel : +33 1 39 31 28 00
Fax : + 33 1 39 31 27 00