PTC-IIex

PACTOR-II & PACTOR-III
Compact unit
Low power consumption
GPS interface for NMEA data
• PACTOR-III is optional. For a permanent use you need a valid license!
The SCS PTC-IIex PACTOR-II & PACTOR-III• Compact unit Low power consumption GPS interface for NMEA data • PACTOR-III is optional. For a permanent use you need a valid license! The small companion of the PTC-IIpro. But small only in size not in performance! Perfect for portable use. Send email, transfer files, establish real-time data links. The PTC-IIex modem is an affordable data interface between your PC and radio equipment. The PTC-IIex comes with robust PACTOR-I and PACTOR-II digital modes built in. The PTC-IIex will maintain links in conditions with signal to noise ratios of minus 18 dB. That means data transfer with absolutely inaudible signals. The PTC-IIex is less expensive than it's full featured brother the PTC-IIpro without sacrificing performance

Powered by a powerful Motorola CPU and DSP (Digital Signal Processor), the PTC-IIex stands out as superior technology for HF radio data transfers. Packet-Radio operation for VHF and UHF up to 19200 baud is built into the PTC-IIex with no additional hardware to add.
Simple installation with compatible radios from Icom, Kenwood, Yaesu, SGC, SEA, Furuno, R&S and others. Use the PTC-IIex with commercial stations WLO, SailMail, MarineNet and others world wide, as well as the international network of amateur radio opertators (MBOs) that support PACTOR modes.
Technical Data Standard Accessories
Audo input impedance: 47 kO
Audio input level: 10 mVp-p - 2 Vp-p
Audio output impedance: 1 kO
Audio output level: max. 3 Vp-p adjustable in 1 mV steps
Audio processing: Digital Signal Processor DSP56303 / 100 MHz 768 kByte additional DSP RAM
Serial interface: Sub-D 9 (AT type) 2400 - 115200 Baud
Processor: Motorola MC68360, 32 Bit CMOS CPU 25 MHz
RAM: static 2 MByte, CMOS, battery buffered
Realtime clock: Date and time
Front panel: 23 LED's split into various functional groups
Rear panel: Power switch, sockets for transceiver connection, socket for the serial interface (RS232)
Power Supply: 10 - 20 V DC, 300 mA max., reverse polarity protected, self resetting fuse
Dimensions: Width 125 x Height 43 x Depth 183 mm
Weight: 550 g Operating temperature: -10 to +50 °C
Standard Accessories: Modem, Power Connector, RS232 cable, Audio cable, CD-ROM, Installation Guide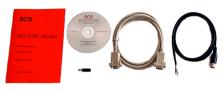 Euro Radio System